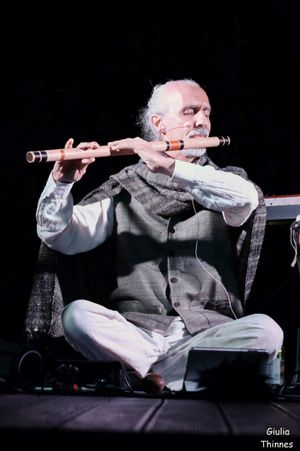 Shastro is a multi-instrumentalist, born in Italy. The development of his unique musical style evolved over many years during his frequent visits to other countries such as Spain, Turkey, Africa, South America and India. These journeys were inspired by a spiritual search that led him to experience meditation in India and creating music for various meditation techniques. His music can best be described as relaxed world music. He performs on Spanish guitar, Indian Bansuri flute, Clarinet, African Kora harp, Indian Dilruba, Native American flutes and other ethnic instruments all with equal ease and beauty, integrating sometime ancient instruments into a compelling contemporary sound. Shastro specializes in music to drift away on - even his upbeat titles exude this relaxed
soothing effect.
Shastro is the president of Malimba Records that he founded in 1997 to help distribute his music as well as the music of several other musicians and friends.
At present he has created 17 albums for the label's catalog  -see below. Only his very first recording is not in the catalog: the music for the popular Osho No Dimension Meditation (read the story of the creation HERE).
 
 Shastro on FACEBOOK 
Articles by Shastro: 
Sound, Silence and the exploration of Consciousness
  "To me Shastro represents the epitome of New Age Artists. His music is so gentle, sweet, and filled with light that to hear it is to smile and take a deep breath, no matter how tense and nervous you might be."
- Steve Ryals, music reviewer

"Shastro has proven himself as one of the more versatile performers in the realm of world fusion music - an artist who never fails to surprise and enchant with every sound-scape he creates."
- Music Design In Review
Beyond Limitations by Shastro • MB0034 (2023)
feat. Rishi & Harshil 
 
A world-fusion track by Shastro, born from the collaborations with two amazing percussionists:
Rishi & Harshil. 
Afro beats, Sanskrit chants, new flamenco guitar and jazzy flutes all mix together with the suave and upbeat style typical of Shastro's early works. Uplifting and energizing yet at the same time deep and soothing. 
The Sanskrit mantra (Lokah Samastah…) translates in: "May all beings in the world be happy and be free"
Earth my Body by Shastro & Surya • MB0033 (2023) 
In this slightly tribal new composition, Shastro has combined two different chants. To be precise one chant - Earth my Body - very famous in all Rainbow gatherings around the world and one mantra - the Siri Gaitri -  very popular among Yoga and spiritual enthusiasts.
The latest often tied to both Kundalini Yoga practice
and modern Tantra practices. 
The lyrics of both are related to the connection
between ourselves and the Earth Elements
as well as the infinite Universe. 
Ra, Ma, Da , Saa, Saa, Se, So, Hang - It translates as
Sun, Moon, Earth, Infinity: All that is in infinity, I am Thee.