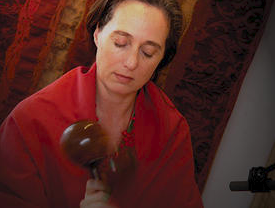 Nanda Re - born Verena Bruckner - has been involved for many years in music, shamanism and meditation as well as rebirthing, NLP, deep relaxation and visualization. She likes to think of her music as a bridge between the artistic-professional and the shamanic-spiritual worlds - both these worlds have their place in her everyday life.

She has a musical foundation that was laid at an early age at the Mozarteum University of Music, Theatre and Visual Arts in Salzburg, Austria. She then continued her art education with a classical degree in theatre and acting,
and later enriched her professional experience with numerous appearances on the theatre stages of Aachen and Bonn (Germany).
Shaman Earth Dance
by Nanda Re • MB4912
Music to Dance, Travel and Dream
Using drums, rattles, didgeridoo, bells, cymbals, mixed choir, vocal mantras from around the world, mouth percussion, string instruments and synthesizer, Nanda Re presents to us her astounding compositions carrying flavors of many different cultures.
At times dynamic and energizing and at times soft and introspective, this music connects one to the power of the Earth through a sound journey that unites the elements of air, water, fire and ether with the Earth - soft and rhythmical like breathing, dynamically ebbing like the sea, passionately blazing like fire and deeply spiritual like the spirit of the Earth.

This album can be used for exploration through body movement - like in trance-dance - as well as for more quiet inner journeying.


"Malimba Records has done it again—released a recording that is a true revelation and also sets the bar high in its respective genre (chant)." - Retailing Insight Magazine